12 Easy DIY Dyed Sensory Materials for Sensory Play
Learn all the best DIY dyed sensory materials to give your kids the best sensory play experience possible! You can easily create your own DIY sensory table with these materials!
Sensory play is so much fun, especially when the things your kids are playing with are bright and colorful.
So, I've come up with a huge list on all the easy DIY dyed sensory materials so you can easily find what you want to do.
These DIY dyed sensory materials for toddlers work great for sensory tables, bins, and bottles.
From pasta to quinoa, oats, beans, and more, here are all the DIY sensory items you can make for your kids!
Making your own dyed sensory materials at home is an easy, inexpensive way to create unique sensory experiences. Here are some ideas for DIY dyed sensory materials for preschoolers and toddlers you can make in your own kitchen.
Some of these links are affiliate links meaning if you purchase from these links, I will earn a commission at no extra cost to you. Everything I share is my own opinions and things I personally use and love. Some of the products I mention throughout my blog are sponsored, but again, only things I truly use and love. You can learn more by reviewing my disclosure. As an Amazon affiliate, I earn from qualifying purchases.
Best Food Coloring for Sensory Play
I prefer to use food coloring so that if you are making this food messy play for toddlers who still don't know what to put into their mouths, it won't be toxic to them like paint will.
The best food coloring for sensory play is ones that offer a vibrant color (like these). When you use vinegar and food coloring, the color is not as strong as if you used paint.
Ultimately, these dyed materials for sensory play for toddlers is up to you!
12 DIY Dyed Sensory Materials
Here are some of the best dyed sensory play items so your kids can have the best sensory learning activities possible!
How to Dye Pasta for Crafts and Sensory Play
Pasta is another inexpensive material that absorbs dye readily. Dyeing pasta creates fun textures and colors for sensory play.
Pasta is one of the top preschool messy play and you can easily dye it with food coloring and vinegar.
How to Make Rainbow Sensory Rice
Rice is a classic sensory material that takes on beautiful colors when dyed. It is one of the more popular sensory activity for toddlers.
Dyed rice is so easy to do. I can easily make up dyed rice in just under 30 minutes. Even my kids helped me make some!
Learn how to make rainbow rice for sensory play
Dyed Spaghetti
The top food messy play is cooked spaghetti. You basically do the same thing as dried pasta, but it makes quite the difference for kids!
Learn how to make dyed spaghetti that your kids will love to play with.
How to Make Rainbow Oats for Sensory Play
Oats are another fun sensory food play that are quite easy to make any color you want.
As oats are pretty cheap to buy, they are one of the best sensory messy play to make!
Learn how to dye oats for sensory play
Rainbow Quinoa
Another one of the super fun sensory activities for young toddlers is to play with rainbow quinoa.
A rainbow quinoa sensory activity provides a calming effect on your kids too and is super easy to make!
Colored Pumpkin Seeds
Colored pumpkin seeds is one of the sensory activities kindergarten age kids might enjoy as well as toddlers.
To dye pumpkin seeds, you will need to soak the seeds with food coloring and water. The longer they sit, the more vibrant they will be!
How to Make Colored Sand
Colored sand is another one of the most popular messy sensory activities.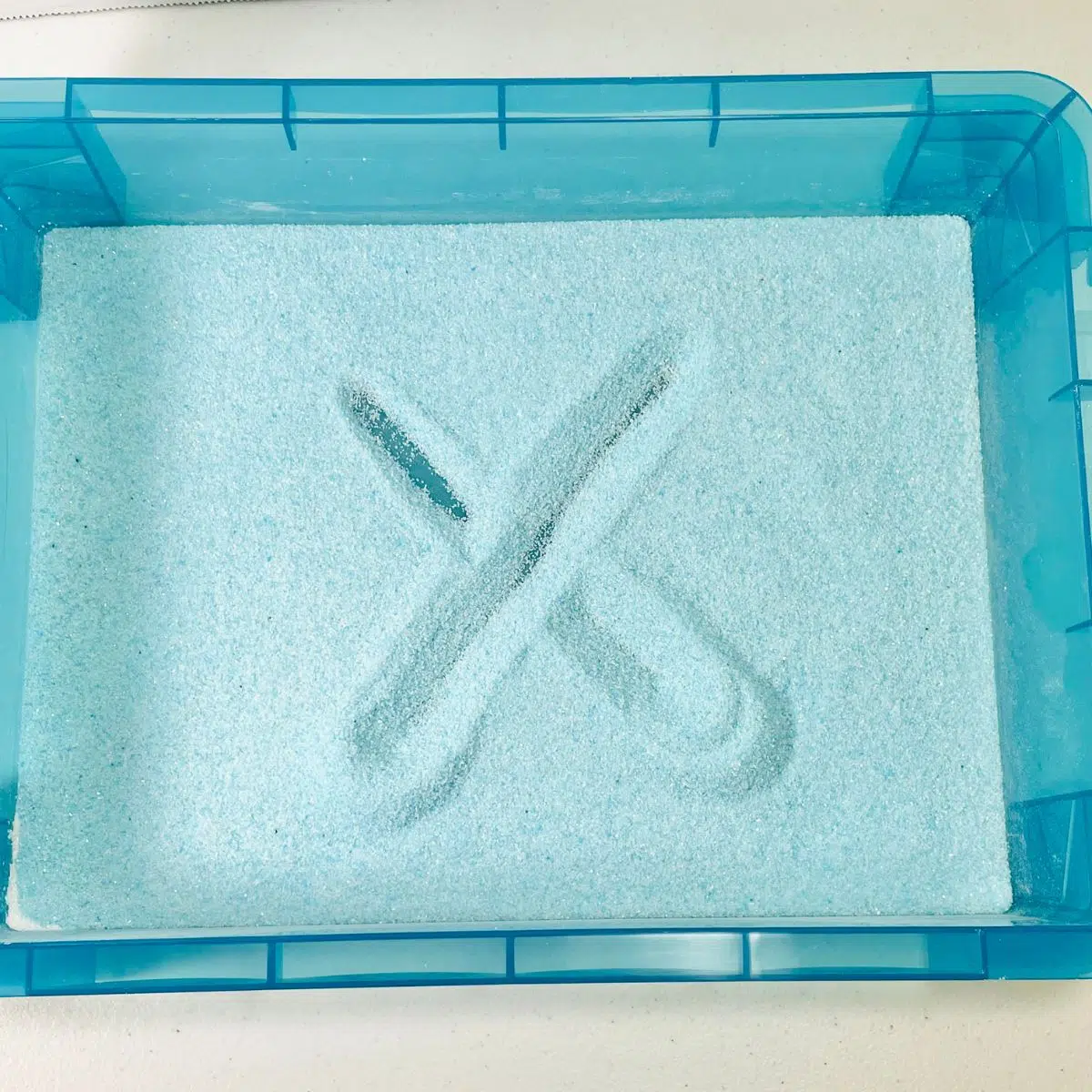 Dyed sand feels so good in a child's hand. They will spend hours playing in this fun sensory play!
How to Dye Sprinkles and Color
If you have a bunch of white sprinkles, try this messy play idea for 1 year old!
If you use food coloring, dyed sprinkles are and edible sensory play filler too.
Edible Rainbow Waterbeads
One of the sensory box ideas for babies is to make your own edible rainbow waterbeads.
These dyed tapioca pearls are perfect for kids would still put things in their mouths!
Dyed Beans
If you have a ton of lima beans hanging around, you might want to use some up with sensory play!
It uses lima beans and watercolor to create their cute pastel colors that would be perfect for a sensory bin!
Rainbow Clean Mud
Have you ever made clean mud for your kids? I haven't but it sounds interesting!
Learn how to make this rainbow clean mud and try to create it one time for your kids!
How to Dye Corn Kernels for Sensory Play
Popcorn kernels are another fun food item you can easily dye for sensory bins.
This method for dyeing corn kernels uses food coloring and hand sanitizer, so not taste-safe but great for older kids.
Dyed Sensory Materials Wrap-Up
With some simple pantry ingredients, you can create endless varieties of DIY dyed sensory materials.
Get creative with colors and textures. Add scents using a few drops of essential oils if you want.
Use the materials freely for sensory play and let your kids have hours of endless fun.